EXTENDMAX – On November 29, 2022, the Ministry of Information and Communications issued Circular No. 17/2022/TT-BTTTT together with QCVN 131:2022/BTTTT National technical regulation on E-UTRA NB-IoT user equipment - Radio access. The regulation QCVN 131:2022/BTTTT is compiled based on ETIS EN 301 908-13 V13.2.1 and EN 301 908-1 V15.1.1 including requirements on radio wave emission criteria such as peak power and minimum power of transmitters, spectrum masks, spurious emissions... The Circulars No. 17/2022/TT-BTTTT and QCVN 131:2022/BTTTT shall take effect from 01 July 2023 and is mandatory to apply in import procedures, quality inspection, regulation conformity certification, and regulation conformity announcement.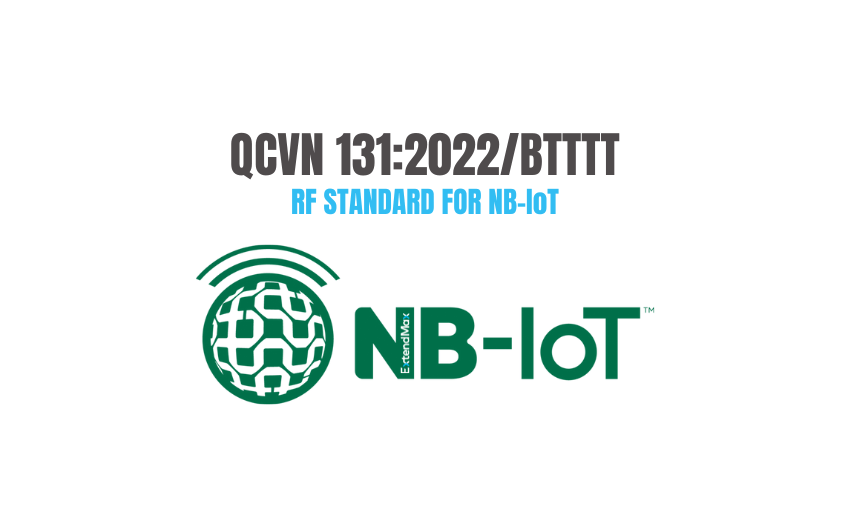 Scope of application of QCVN 131: 2022/BTTTT
This regulation specifies the technical requirements for the radio access part of E-UTRA narrowband IoT terminals operating on one or more of the bands specified in Table 1 and the planned bands of Vietnam. .
The HS code of the E-UTRA narrowband IoT terminal is in accordance with Appendix B.
Table 1 - Operating frequency bands of E-UTRA NB-IoT user equipment
E-UTRA bands

UE transmit / receive

Operating frequency of E-UTRA NB IoT user equipment

1

Uplink

1 920 MHz - 1 980 MHz

Downlink

2 110 MHz - 2 170 MHz

3

Uplink

1 710 MHz - 1 785 MHz

Downlink

1 805 MHz - 1 880 MHz

5

Uplink

824 MHz - 835 MHz

Downlink

869 MHz - 880 MHz

8

Uplink

880 MHz - 915 MHz

Downlink

925 MHz - 960 MHz

28

Uplink

703 MHz - 733 MHz

Downlink

758 MHz - 788 MHz
Appendix B - HS code of

E-UTRA NB IoT user equipment
| | | | |
| --- | --- | --- | --- |
| TT | Product name according to QCVN | HS code | Product descriptions |
| 01 | E-UTRA NB IoT user equipment | 8517.14.00 | Terrestrial mobile communication terminal using narrowband IoT technology |
Products under application scope
E-UTRA narrowband IoT terminals (also called NB-IoT or LTE Cat NB1 terminals)
Other Group 2 products of the Ministry of Information and Communications have integrated features of NB-IoT devices such as vehicle black boxes, gps trackers.
More comments from ExtendMax
The radio transceivers in the low power wide area network for Internet of Things IoT applications can be divided into main groups including LoRaWAN, Sigfox, NB-IoT, LTE M. Where NB- IoT, LTE Cat M are technologies that use frequencies shared with terrestrial mobile communication networks as licensed frequencies.
In terms of technology, NB-IoT and LTE Cat M has many differences although it can use the same frequency. Currently, we do not know if QCVN 131:2022/BTTTT applies to both LTE M or only to NB-IoT
It is expected that the Ministry of Information and Communications will issue a Circular amending, supplementing, or replacing Circular 02/2022/TT-BTTTT around March or April 2023, listing newly issued technical regulations including QCVN 131:2022/BTTTT and other standards such as QCVN 130:2022/BTTTT, QCVN 18:2022/BTTTT, QCVN 132:2022/BTTTT and take effect from July 1, 2023. Other new regulations like QCVN 117:2023/BTTTT shall take effect later on 2024
Contact information for market access requirements consulting
EXTENDMAX VIETNAM COMPANY LIMITED
Hotline: +84 915 836 555 | Hanoi: +84 24 6666 3066
Email: consultant@extendmax.vn | phuong.tran@extendmax.vn
HO: ExtendMax Villa, C01-L18 An Vuong, Duong Noi urban area, Duong Noi ward, Ha Dong district, Hanoi City, Vietnam
Test laboratory: BT02-21, An Hung urban area, To Huu street, La Khe ward, Ha Dong district, Hanoi City, Vietnam
If you find our article useful and valuable in practice applications, please support us by rating it, leaving your comment at the bottom of this article, and sharing it with your colleagues or the industry. Your review will be a great motivation for us to write more detailed and valuable procedural guides for importing, exporting organizations.
↓ ↓ ↓ ↓ ↓ ↓ ↓