EXTENDMAX – When your shipment lands Vietnam, you may quickly find out that some of the products need certain compliance requirement or import permit to be released. Or sometimes, there are doubts of the customs officer regarding certification or permit that need clarification from professional experienced handler. It could be the time to ask us for the Importer of Record (IOR) or Exporter of Record (EOR) services. We are exceptionally good at ICT, wireless, civil cryptography products such as firewall, switch, router, mobile phone, laptops, access points and other network appliances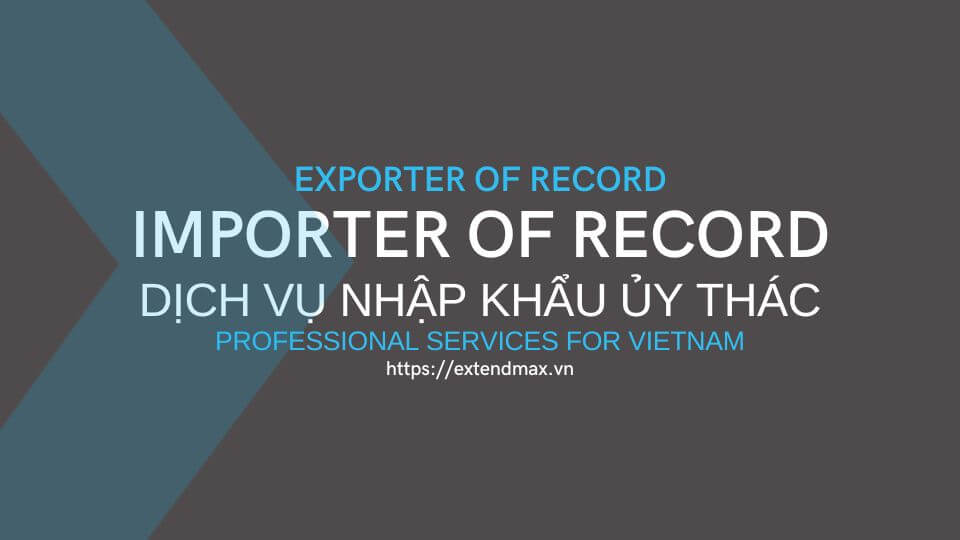 What is Importer of Record (IOR) or Exporter of Record (EOR)
Importer of Record is an authorized entity (or person) that takes responsibility for an import. Importer of Record is also known as entity (or person) that put their name on importing documents as consignee and responsible to provide all necessary compliance requirement and license or permit for customs clearance process and pay related fee.
Exporter of Record is similar to IOR, but in term of exporting products out of a country. Sometimes, IOR and EOR are also known as "entrusted import" and "entrusted export" services.
Responsibility of Importer of Record, Exporter of Record
→ Ensuring import and export compliance pursuant to Vietnam regulations
→ Categorize the products, evaluate import / export requirement and respective cost
→ Apply for necessary certificate, license, and permit to import or export
→ Pay necessary relevant taxes, duties, and other fees for shipment
Why you need IOR and EOR for Vietnam market
Import requirement for IT products to enter Vietnam is quite complicated and sometimes your shipment could get stuck at port due to certain requirements which cannot be accomplished quickly due to authority's procedures or certification requirements. Sometimes, simply the importer is not qualified or not experienced enough to get through the process properly and quickly. Typical troubles are as follows:
→ Civil Cryptography Products (CCP) dealer license and import permit which takes several months to obtain (if the applicant is qualified and meet all requirements). CCP dealer license and CCP import permit is usually required for IT products such as security appliance, firewall, gateway, router, switch, storage server, bank tokens…
Learn more:
Procedure and requirements to apply for CCP dealer license
In-depth guide on CCP dealer license and CCP import permit
Conformity certification for civil cryptographic products
→ MIC type approval certification process for wireless products and ITE is complicated and hard to analyze certification cost for the shipment. For certain products (laptop, tablet, and mobile phone) a huge number of lithium battery test samples are required for testing and will be broken after test. If the importer is not well-prepared, the importer will get big trouble in preparing battery test samples.
Learn more: MIC Telecom and radio Type Approval
→ Certain IT products need to meet minimum energy performance standard (MEPS) for customs clearance
Learn more: MOIT Energy Efficiency (VNEEP) DoC
→ Certain IT products need import permit for Cyber Security Product (CSP). At this moment, only a short list of not over 100 companies in Vietnam has been licensed and allowed to apply for CSP permit
Learn more: Trading license for cybersecurity products
The benefit of using ExtendMax's IOR and EOR services
As a leading supplier in providing services for MIC certification and CCP licensing, ExtendMax offers huge benefit for using our services as follows:
→ Assess import requirements and compliance requirements quickly and precisely to prevent all troubles from arising, help customer controlling lead time and budget.
→ Available CCP dealer license for huge list of products, ready to apply for import CCP permit for the IT products. Therefore, we improve lead time for your delivery plan greatly.
→ Having a large network with local representatives of world-wide manufacturers then we can assist customers to leverage available resources and optimize the cost related to compliance requirements.
→ Providing smart solutions to save the shipment from troubles. We also provide clear consulting with evidence for client's decision.
→ Having a large network with logistics supplier partners who are cooperating with us to provide Door-to-Door delivery services. In case the client would like to use a designated logistic supplier or forwarder, we are also happy to cooperate with.
Contact information for IOR and EOR services in Vietnam
EXTENDMAX VIETNAM COMPANY LIMITED
Hotline: +84 915 836 555 | Hanoi: +84 24 6666 3066
Email: consultant@extendmax.vn | phuong.tran@extendmax.vn
HO: ExtendMax Villa, C01-L18 An Vuong, Duong Noi urban area, Duong Noi ward, Ha Dong district, Hanoi City, Vietnam
Test laboratory: BT02-21, An Hung urban area, To Huu street, La Khe ward, Ha Dong district, Hanoi City, Vietnam
If you find our article useful and valuable in practice applications, please support us by rating it, leaving your comment at the bottom of this article, and sharing it with your colleagues or the industry. Your review will be a great motivation for us to write more detailed and valuable procedural guides for importing, exporting organizations.
↓ ↓ ↓ ↓ ↓ ↓ ↓