EXTENDMAX – What does a full set of import and export shipping documents include? This is a common question asked by businesses when they are just starting to exchange goods with foreign countries, or employees of new logistics companies. Therefore, we gather relevant information, including the types of import and export documents necessary to prepare a general customs dossier, and add instructions on additional import and export documents. for special cases such as entrusted import and export, import and export of products on the specialized checklist in this article.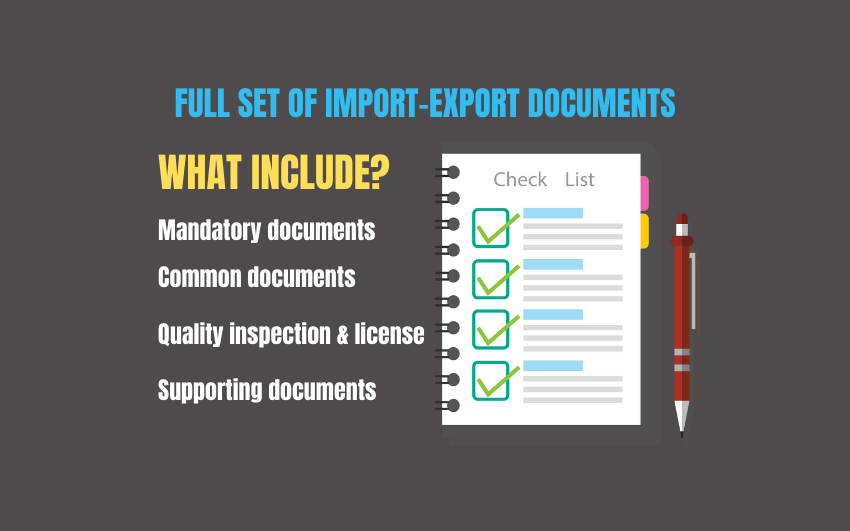 1. Definition of import and export documents
Import and export documents are the shipping documents accompanying the shipment that list the shipping date, the name of the sender (or seller) and the name of the consignee (or buyer), shipping method, payment method, quantity, specification, origin and specifications of imported and exported goods. The import and export documents are the basis for the two parties to deliver the goods, make payment, claim or compensate in the event of a dispute between the relevant parties (the seller, the buyer, the carrier, the insurance company...).
2. Mandatory import and export documents
Customs declaration form
Customs declaration is a document that the exporter or importer (goods owner or import-export entrustment company) makes and must make a complete and detailed declaration of goods when exporting or importing into the territory. Vietnamese territory. The customs declaration is made according to the form specified in form No. 01, Appendix II of Circular 39/2018/TT-BTC.
Bill of Lading
A bill of lading is a document that records the goods being loaded on the means of transport (land, sea or air). A bill of lading can be understood as a document that the company providing transportation services officially confirms that the goods have been received on the means of transport managed and controlled by them to bring the goods to the place specified in the contract of carriage. , delivered to the designated consignee. Sea waybill is called Bill of Lading, air waybill is called Airway Bill.
Commercial Contract
A commercial contract is a document jointly made by a buyer and seller to describe in detail the terms of foreign trade. In other words, a commercial contract is a written agreement between the buyer and the seller, which usually contains specific provisions on the object of purchase and sale (goods), information about the buyer and seller, the terms of delivery, amount and term to be paid by buyer, payment method, beneficiary's bank account. A commercial contract is only valid when there are enough confirmation signatures of both parties (electronic or hand-signed).
In many cases, when two parties do not enter into a commercial contract but apply an order (in English called a Purchase Order), we consider a Purchase Order to be a special case of a commercial contract. Purchase order, abbreviated as PO, is not required to be signed by both the buyer and the seller. Normally, only the signature of the ordering party (buyer) is required for the PO to be valid.
Commercial Invoice
A commercial invoice is a document prepared by the seller, which usually shows the amount to be paid by the buyer, the payment method, and the beneficiary's bank account. Commercial invoices do not apply to the case of goods being imported to perform processing contracts for foreign traders or imported and exported goods for which the recipient does not have to pay the sender. In this case, the parties will use the proforma invoice as an alternative document.
Packing List
Packing list, also known as a list of goods, is a document that lists a list of goods as agreed in a commercial contract. The information on the statement is similar to a commercial invoice but does not include payment or commodity price or currency information. Instead, the Packing List lists the packing specifications (bales, or pallets, crates, etc.), the "dry" weight (net weight) and gross weight, and at the same time, the gross weight. also record the size of the packaging of the goods. The information in the Packing List is used to calculate the arrangement of means of transport, loading and unloading of goods, arranging warehouses...
3. Common import and export documents
Conventional import and export shipping documents are documents that are not required, but have specific effects in import and export, or are specified in the agreement between the buyer and the seller. Typical types of documents include:
Proforma Invoice
Proforma Invoice is not a payment document like Commercial Invoice. This document serves as a document confirming the shipping information and the amount to be paid, to be used only during customs clearance.
Letter of Credit or L/C
Letter of Credit is issued by a bank at the request of the importer, promising to pay the exporter within a certain period of time after the exporter presents a valid set of documents. Usually Letter of Credit is used in cases of first sale and purchase between the buyer and seller, or when the shipment has a large value that requires a 3rd party (bank) to act as an intermediary, guarantee underwriting to minimize risks for both the buyer and the seller.
Insurance Certificate
Insurance documents include insurance policy and insurance certificate. This is not a required document for every shipment. The purchase of insurance is undertaken by the seller or the buyer under the terms of delivery agreed between the two parties, sometimes without insurance requirements. We can determine whether the shipment has a certificate of insurance or not through Incoterms delivery terms such as CIF.
Certificate of Origin
A Certificate of Origin, also known as CO for short, is a document issued by a competent authority indicating the origin of a good and the country or region where the good was manufactured, or assembled, or packed. Certificates of Origin are important for shippers or consignees in some cases and can help them get preferential rates or tax waiver, especially for large value shipments.
4. Conformity certificate and license
Depending on the requirements of the importing country, for some special items subject to import and export management such as group 2 products and goods that are likely to affect the safety of users or the safety of society. society in general, or affect national security, importers or exporters will need documents on specialized inspection to carry out import and export procedures. Typical documents for importing and exporting goods into or out of Vietnam include:
Import and export license
Import permits and export permits apply to products and goods on the list of goods imported or exported under permits or licenses. These types of licenses are very diverse, managed by many different state management agencies. Typical examples include:
Certificate of Conformity
Certificate of registration of quality inspection applied to imported goods
Certificate of quarantine when importing and exporting agricultural and forestry products
Fumigation Certificate (when using pallets or wooden crates to pack goods)
Transport test results for dangerous goods eg UN 38.3 for lithium batteries
MSDS (Material Safety Data Sheet) for goods containing dangerous chemicals
5. Supporting documents and other documents
In addition to the above-mentioned import-export documents, import procedures may require some other documents to support import-export procedures or are required for specific products, such as:
The list of forest products for imported wood materials prescribed by the Ministry of Agriculture and Rural Development
Documents for customs dossiers for imported and exported goods that are not subject to tax specified in Clause 3, Article 16 of Circular 39/2018/TT-BTC
6. Documents when using IOR or EOR services
In case the goods owner entrusts the import or entrusts the export to a service company (using importer of record service IOR or exporter of record service EOR) such as ExtendMax, an IOR contract or EOR contract is a mandatory documents for this case. In addition, when making a set of entrusted import and export documents, there are some differences compared to the usual set of import and export documents, specifically the following differences:
IOR will be listed as importer on Bill of lading, Buyer can be listed as Consignee or Notify Party
Do not use commercial invoice but use proforma Invoice for the case using IOR or EOR services
On Proforma Invoice, IOR shall is listed as Importer, and the Buyer is notify party or consignee.
Usually specialized inspection licenses will be the license issued to the IOR company
The commercial contract still leaves the original name of the buyer or seller (shipper)
The customs declaration shows the name of IOR as the importer, and the information of consignee is listed under "import entrustment" section.
When making entrustment import and export dossiers, it is mandatory to submit together with the IOR or EOR contract.
Entrusted import customs declaration form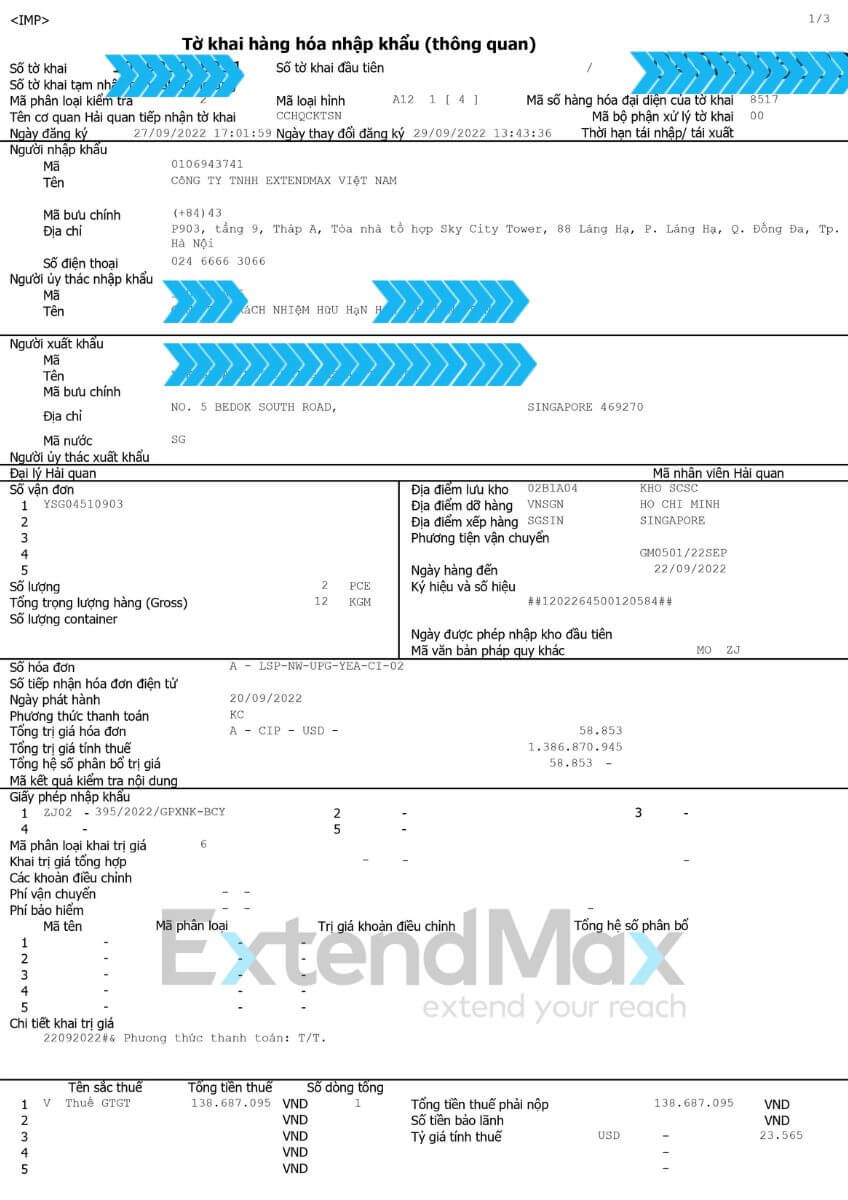 Above are all of ExtendMax's instructions on a full set of export documents or a full set of import documents to make a favorable customs dossier in accordance with regulations.
Contact information for IOR and EOR services in Vietnam
EXTENDMAX VIETNAM COMPANY LIMITED
Hotline: +84 915 836 555 | Hanoi: +84 24 6666 3066
Email: consultant@extendmax.vn | phuong.tran@extendmax.vn
HO: ExtendMax Villa, C01-L18 An Vuong, Duong Noi urban area, Duong Noi ward, Ha Dong district, Hanoi City, Vietnam
Test laboratory: BT02-21, An Hung urban area, To Huu street, La Khe ward, Ha Dong district, Hanoi City, Vietnam
If you find our article useful and valuable in practice applications, please support us by rating it, leaving your comment at the bottom of this article, and sharing it with your colleagues or the industry. Your review will be a great motivation for us to write more detailed and valuable procedural guides for importing, exporting organizations.
↓ ↓ ↓ ↓ ↓ ↓ ↓